Published on the 28/01/2020 | Written by Heather Wright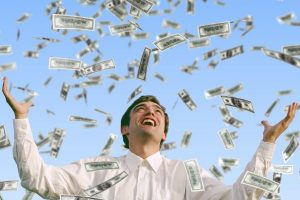 New year, new funding: US$40m here, NZ$14m there, $7m over there…
From mobile software to edtech, digital assistants, smart shopping trolleys and neobanks, Kiwi and Australian companies have been scoring big when it comes to funding this month.
Kiwi mobile software startup Spoke Phone raised NZ$7 million in series A funding in a capital raising round led by Australian venture capital firm, Marbruck Investments, with support from New Zealand-based Icehouse Ventures and Sir Stephen Tindall's K1W1 fund.
The Auckland-Based startup has developed a mobile phone app providing a 'second line' to enable business users to separate personal and business calls, while providing a business phone system, complete with features including auto-attendants, virtual receptionists, hunt groups, call transfer, conference calling and recording.
"We have the right technology."
The company's customers include Netball New Zealand, Dymocks in Australia and Raymond James Financial Services in the US.
The new investment – which brings Spoke Phones investment to $11 million – will be used to enhance the solution, commercialise a version for enterprise which enables customers on legacy phone systems to migrate to cloud and accelerate the company's expansion into Australia and the United States.
"One of the riskiest and most disruptive cloud transformations companies face is how to get off their legacy phone system," says Lachlan Clough, a partner with Marbruck Investments. "We invested in Spoke Phone because their technology gives companies a risk-free and non-disruptive way to gently migrate legacy phone systems to the cloud."
The migration of legacy phone systems is a key focus for the company.
Co-founder Jason Kerr cites the example of a recent new customer – a large Australian commercial insurance provider – which couldn't risk making a wholesale change to their phone system and opted instead to implement Spoke Phone over the top of their legacy phone system while also integrating with Twilio and Amazon as part of their larger cloud migration strategy.
The Spoke investment came hard on the heels of news that Soul Machines – creators of 'virtual assistants' – has raised US$40 million in series B investment.
That funding is earmarked for further R&D as well as the expansion of Soul Machines' operating footprint around the world, the company says. The company already has offices in San Francisco, Los Angeles, New York City, London and Tokyo as well as Auckland and Melbourne.
The investment round, which brings Soul Machines funding to nearly US$50 million, was led by Singapore's Temasek, with participation from Salesforce Ventures and European VC Lakestar, and further investment from existing funders Horizons Ventures and the University of Auckland Inventors Fund among others.
Soul Machines' digital avatars – or to use the company's term 'digital heroes' – have been deployed at customers including ANZ, Air New Zealand, Mercedes Benz, The Royal Bank of Scotland and Proctor & Gamble, where Yumi became the digital face of prestige skincare brand SK-II last year.
The company was also behind Nadia – the Cate Blanchett-voiced virtual human which was trialled by the National Disability Insurance Agency in 2018.
Rob Keith, Salesforce Ventures head of Australia, says Soul Machines has an 'obsessive focus on improving customer experience by using artificial intelligence technology in new ways'.
Also securing further funding success is automated checkout and shopping trolley startup Imagr, which has just announced it has secured NZ$14 million in a pre-series A funding round.
The funding for Imagr, which is the creator of the SmartCart intelligent shopping trolley, follows 'significant' investment late last year from Sage Technologies – who along with Harald McPike also backed this round, and comes as the company gears up to launch in New Zealand with Farro Fresh, and Japan's H2O Retailing
While the financial details of that funding were kept under wraps, Imagr has been happy to spill the beans on the latest funding, led by Toshiba Tec.
William Chomley, Imagr CEO dubbed Toshiba Tec's backing 'thrilling' given it is an international point of sale leader which owns 96 percent of the convenience market in Japan.
"Its support of Imagr shows we have the right technology in place to change how retail shopping is done across the world," Chomley says.
For its part, Toshiba Tec says it was looking for the most promising automated checkout provider, settling on Imagr as 'the most advanced technology of its kind'.
Its computer vision and AI technology is industry-leading, outperforming other AI retail systems we have seen, and the integration into existing stores is simple and scalable. We can't wait to see IMAGR change the retail industry in the 2020s," says Masami Uchiyama, Toshiba Tec senior vice president.
Last year's Tin200 report highlighted the changing landscape of New Zealand tech investment, with seven Tin200 companies receiving $326 million in offshore investment between them and eight Tin200 companies acquired by offshore interests.
The funding isn't just flowing into New Zealand startups. In Australia neobank Volt has received a AU$70 million boost with an oversubscribed series C funding round. The round was reportedly oversubscribed by $10 million and brings total funding to $100 million for the neobank, which aims to take on the traditional banking establishment.
Volt was the first digital bank to be granted a full license in Australia and is eyeing up an IPO later this year. It recently launched its first savings account offering and says it aims to have a full range of consumer and loan products in the market come the end of this year. The company plans to target the small and medium enterprise market in 2021.
It will begin a series D funding round soon, focused on investors in the UK and Middle East.
Steve Weston, Volt CEO and co-founder, says "Key to our ultimate global scale is the development of our platform strategy. We are now raising more capital to invest in the development, integration and onboarding of partners that will open up new customer bases with both Volt-branded and white-labelled banking products."
Also riding the funding wave is education technology provider Vivi, which last week announced it has closed a funding round with New York investment group Riverside Acceleration Capital. The edtech company isn't disclosing the amount of funding received, but says the latest round means it has raised AU$6 million capital in four years. A syndicate of Australian investors keen to support growing technology companies, was also involved in the latest funding round.
Australian health technology startup Loop+, which has developed a wheelchair sensor mat to measure pressure, environmental conditions and activity, has also raised AU$3 million in an oversubscribed seed funding round, in good news for a market troubled by early stage capital shortages.
The lack of early stage funding prompted the ACS to launch a $5 million tech fund late last year and call for other investors to join the scheme.
The launch of the early stage tech investment fund followed the ACS' Digital Pulse report which found an estimated 97 percent of Australian startups either exit or fail to commercialise and scale, with difficulties attracting investment cited as a common cause.