Published on the 08/11/2019 | Written by Heather Wright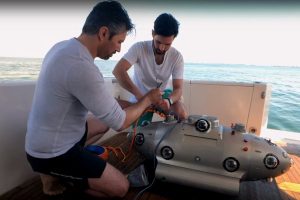 From search and rescue to building better ports and making mining safer…
It's a case of subs to the rescue, with a Melbourne-based company hoping its new ocean imaging mapping tech will help save species from extinction, aid search and rescue missions – and help businesses too.
UAM Tec's underwater submarine, launched last week, is designed to autonomously map the world's oceans, lakes and waterways, creating what UAM Tech calls Google Maps Street View for the ocean.
Benjamin Fleming, UAM Tec (that's Underwater Autonomous Mapping Technologies) co-founder, says he hopes Sub Mapping will enable the discovery of new species of marine life and tracking of climate change.
"Imagine no more."
"But in time we will also be able to optimise search and rescue operations, locate wreckages and black boxes and much more," Fleming says.
While it all sounds very altruistic and socially-conscious, there are also potential benefits for a range of industries, and the company does have plans on that front.
"Imagine if we could… build better ports or make mining exploration safer," UAM Tec's site says. "Imagine no more."
And, of course, there's also consumer fun to be had. Aimlessly clicking around exploring the ocean floor sounds way more fun than wandering streets via Street View, and the company is working on a virtual reality offering. UAM says it's hoping the 3D imagery will create a new area of citizen scientists, swiping their way around the ocean floor to discover new marine organisms while on their way to school or work.
The subs use 22 onboard cameras and an array of sensors, including sonar and motion tracking, along with artificial intelligence to navigate and communicated autonomously.
Travelling up to 100km in distance, the subs can currently travel to depths of up to 300 metres, but the company says soon the vessels will be able to resist water pressure down to 'at least 4000 metres' – still well short of the Mariana Trench's Challenger Deep, which at nearly 11,000 metres is the deepest known point in the ocean – but deep enough to provide some serious mapping potential.
The subs have a battery life of 40 hours, after which the sub automatically returns to base to recharge, with the images transferred via a satellite network. The data is then collated and stitched together using AI to create 3D interactive maps and footage with 360 degree interactivity.
Swarms of the lithium battery-powered subs, designed for minimal environmental impact, will be deployed for mapping duties, with UAM Tec saying it wants to be the leading provider of the most advanced mapping technology for oceans, lakes and waterways by 2021.
Its first missions will be in Melbourne's bays and waterways.
Australia is also home to Underwater Earth, a not-for-profit, co-founded in 2010 by Lorna Parry and Christophe Bailhache, which is also taking Google's Street View to the oceans. Its footage, gathered using a 360-degree camera the company has developed itself, is being used on Google's Street View Ocean, and Google Earth. However, Underwater Earth's camera's aren't autonomous, instead using dive teams to gather the footage.
It's work has already included the most comprehensive scientific survey of the Great Barrier Reef in history, along with a wide range of other mapping projects and surveys.