Published on the 26/11/2020 | Written by Heather Wright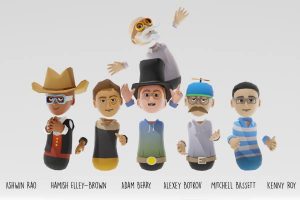 Let's collaborate on the moon and avoid Zoom fatigue…
A Kiwi workplace collaboration startup, which promises to take your work meetings to memorable new places, has scored $2.5 million in an oversubscribed funding round which has also seen it garner some high profile new board members.
Remotely's technology allows remote workers to interact in immersive 3D meeting rooms – think The Sims meets Second Life for business (remember Second Life, or am I showing my age with that one?). Inspired by collaborative multi-player online gaming experiences, Remotely brings workers together as animated avatars who meet in simulated environments ranging from a pirate ship to other planets.
It is, founder Adam Berry tells iStart, an opportunity to breathe new life into remote working using gaming technology and concepts, and help alleviate some of the 'Zoom fatigue' so many of us have experienced.
"A digital memory is just as powerful as a real life one."
It's a concept that clearly has fans, with private investors in the latest funding round including Mike Ballantyne, co-founder of software forecasting company PredictHQ and travel booking business Online Republic, which was later sold to ASX-listed Webjet; and UK-based Paul Heydon, an early investor in global gaming giants Unity and Supercell (maker of Clash of Clans).
Both will join Remotely's board, alongside Icehouse Ventures' Tuhua fund partner Brent Ayrey, a former Facebook product director and Netflix product innovation vice president.
Berry himself has a background in animation and education, with stints as the director of Animation College New Zealand and CEO of New Zealand School of Education, as well as having been former group CEO for failed Intueri Education Group.
In 2016, he sold his animation and IT network education business and spent three months immersed in multiplayer online games. And that's where the idea for Remotely came to Berry, who founded the company in June 2019.
"While I was playing I formed all kinds of awesome friendships," says Berry. "When you're immersed in a game on a collaborative mission, you feel like you're in the same room as your teammates, even though you're in different countries. One day I was reflecting on these strong relationships and I just thought, why can't I work this way?"
He says Remotely aims to 'redefine what it is to be a part of a remote working team by using interactive gaming tools to help workers feel more at ease and engaged while communicating'.
"Our immersive meeting rooms encourage collaboration, without the pressure of being on-camera.
"We've seen already many people choosing to black out their screens to avoid video conferencing fatigue, and Remotely offers a range of online settings – from campfires to lakes to other planets – which can bring new energy, creativity and spontaneity to the meeting and your team."
Berry told iStart Remotely, which has a team of seven staff, worked with a social and behavioural clinical psychologist on the platform development.
"Avatars and audio provide the strong cues of being in person," Berry says.
"When your avatar speaks and another avatar leans in to listen, you feel that the other person is listening. That's why it's important that avatars are responsive. Eye movement and head turns immediately make us feel heard and humanises the experience."
Magnify that with a 'cool' environment, and the experience becomes immersive and memorable, he says.
"A digital memory is just as powerful as a real life one. There is research that shows this is how the brain works and how gaming tools can be applied to the business world."
The platform debuted in beta in April – right as much of the world was entering pandemic-enforced work from home and lockdowns – after 10 months' work by artists, creators and developers to build the online platform.
Berry says usage numbers are escalating.
"In the last month 1,000 people used the room and 500 of them in the last week and then 100 in a single day."
Remotely isn't the only collaboration platform to be taking the gamification path. Gather combines video calling and a 2D map in an effort to enable people to 'live and interact more effectively online'. It includes shoulder tapping colleagues to chat, and virtual games of pool,
Meanwhile Branch, with its tagline of 'bringing back serendipity with spatial conversations', offers a virtual HQ featuring meeting rooms, lunch tables, a water cooler, even plants.
Remotely's oversubscribed funding round was lead by Icehouse Ventures, with support from New Zealand Growth Capital Partners (the Crown VC agency previously known as NZVIF) and private investors.
The funds will be used to take Remotely's meeting room product to market and then to scale it, Berry says. While the offering is still in beta, commercial launch is expected in around a year. For now, anyone interested can try the platform for free.
'Fun' elements are also planned for the SaaS platform with things for team to explore before the meeting starts. But don't expect any shoot'em up action.
"There is a fine line in immersing people and having them connect in meaningful, authentic conversations that activate the EQ in the team, versus over gamifying the environments where chaos ensure," Berry says. "Also, bosses have feelings too," he adds, laughing.