Published on the 15/02/2018 | Written by Jonathan Cotton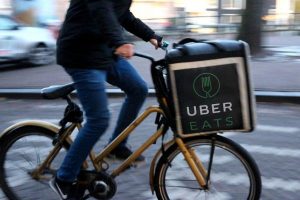 With the Transport Workers Union calling for a crack down on in the gig economy, is it the best - or worst of times - to be an independent contractor?...
The TWU has set its sights on 'on-demand' companies such as Uber Eats, Foodora and Deliveroo, saying workers are being exploited through low wages, long hours, lack of benefits and no insurance and calling for a government review of the industry.
The group has described the current situation as "wage theft at its worst" and released a study which says that two thirds of Sydney and Melbourne bicycle fast food couriers are earning less than the minimum wage.
According to the report, Snapshot: On Demand Food Delivery Riders, contrary to the idea that 'gig' work is used to supplement regular income, 26.4 percent of riders surveyed reported working 40 or more hours per week.
The survey found that 76.6 percent of riders earn effective hourly pay rates well below the minimum wage for casual workers – some calculations showed effective pay rates as low as $6.67 per hour – with reports of pay rates being altered without consultation.
"This is a damning indictment of the abuse of workers in Australia today," said TWU national secretary Tony Sheldon. "Wealthy companies are engaging in wage theft, ripping workers off, leaving them without compensation when they get injured and not paying their superannuation."
"These riders are crying out for guaranteed hours, fair rates of pay, rain gear, work cover, sick pay and insurance for their bikes. The Federal Government may think this way of engaging workers is 'exciting' but the survey today shows the levels of exploitation which exist in the on-demand economy".
Passionate stuff, but any response from the government is likely to be muted. In November the government announced a AU$1.4 million investment on a platform designed to improve young workers' access to the gig economy, funneling workers specifically toward apps like Uber and Airtasker.
"A digital platform will connect unemployed former students with short term employment opportunities in the task-based (gig) economy," the Department of Social Services announced at the time. "Jobs could include gardening, driving and delivery, catering and hospitality and child minding. These jobs will help participants build work experience and give them the confidence to take the next step into long term employment."
The Australian Council of Trade Unions was less than impressed at the time, tweeting that the Turnbull Govt was "encouraging the expansion of [the] under-regulated gig economy."
The union likely has a sympathetic ear in the opposition Labour government, who itself has argued for an overhaul of the Fair Work Act recently, saying it would go so far as to consider forcing employers to make casual staff permanent employees after six months on the job, and ramping up protections for workers from sham contracting.
With the Reserve Bank Governor Philip Lowe again warning about low wage growth, now's as good a time as any to have the argument.
Peer-to-peer platforms are operating in an interesting corner of the labour market, one based on the offer of flexibility, independence and short-term arrangements, but also free of many of the provisions and protections offered by traditional work arrangements.
That is, after all, the trade off.
So does that make calls for regulation? A bureaucratic crack down on free choice and personal responsibility? Or a precaution against 'innovation-by-way-of-poverty'?
More to the point, can a business that maintains profitability by denying provisions to its employees – provisions that others businesses are required by law to supply – really be considered 'innovative'?