Published on the 08/11/2020 | Written by insightsoftware

So you can get a BI solution that can fully handle the complex structure of financial data…
Frustrated with constantly trying to fill the gaps between what business intelligence (BI) tools provide, and the actual reporting needs of your finance team? Does your team often resort to dumping ERP data into Excel and then manually manipulating it? If so, it's probably time to consider financial reporting software.
When it comes to financial reporting, companies are quickly learning that business intelligence and financial intelligence just aren't the same thing.
But how do you know what to look for? In this whitepaper, you will learn the five key factors to consider when evaluating financial reporting solutions.
Here are five key factors to consider when evaluating financial reporting solutions:
Finance-owned vs IT-owned
Direct, timely data access
Drill into detail
Multi-source connectivity
Time to value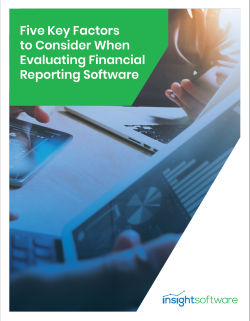 Download whitepaper: Five key factors to consider when evaluating financial reporting software
…
FURTHER READING